Exhibitor Info
Info Sheets










NEW DATES: Take notice.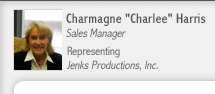 Jenks Productions, LLC.
205 East High Street
East Hampton, CT 06424 Phone: 860.918.0891
Toll Free: 877.721.0628
MA Office: 508.362.2745
Direct Fax: 860.529.7418 General Information & Sales:
Contact Us



Designed & Developed by:
Infotree Web Services
June 1, 2020




Not yet registered?




Exhibition and Trade Show Management
WE'LL SHOW YOU THE WAY!!!

Connect with me on the following sites:



You must be logged in as an exhibitor to view info sheets.
Please use the exhibitor login on the left, or register online to view the info sheets.